When it comes to your dog's health and safety, choosing the right collar or harness can be a difficult decision. With so many options on the market, it can be hard to determine which one is best for your pup. This 2023 guide provides an overview of collars and harnesses to help you make an informed choice when selecting the perfect accessory for your furry friend.
We'll explore the advantages, disadvantages, and factors that should be taken into account before making a purchase. So if youre trying to decide between collars vs. harnesses for your four-legged pal, this comprehensive guide is here to help!
Which is Better for Your Dogs Health & Safety: A Collar or a Harness?
When it comes to your pet's health and safety, one of the most important decisions you must make is choosing between a collar or a harness for them. Collars are traditional dog accessories that provide control as well as identification. Harnesses, on the other hand, offer more support and can help prevent choking if your pup pulls on its leash too hard. So which option is better for your canine companion?
The answer largely depends on what kind of activities you plan to do with your pup. For example, collars are ideal for basic obedience training or short walks around the block whereas harnesses provide more stability and security while running or playing off-leash in wide open spaces. Additionally, certain breeds such as Greyhounds may benefit from wearing a harness instead of a collar due to their delicate neck structure and slim body type.
Furthermore, when selecting either item consider sizing carefully; purchasing an ill-fitting accessory could lead to discomfort or even injury so make sure there is enough room for two fingers between the neck/chest straps of whichever product you choose – this will ensure they have ample breathing space! If you're still unsure which option would be best suited for your pooch speak with a professional trainer who can assess their needs further before making any final decisions.
How to Choose the Right Collar or Harness for Your Dog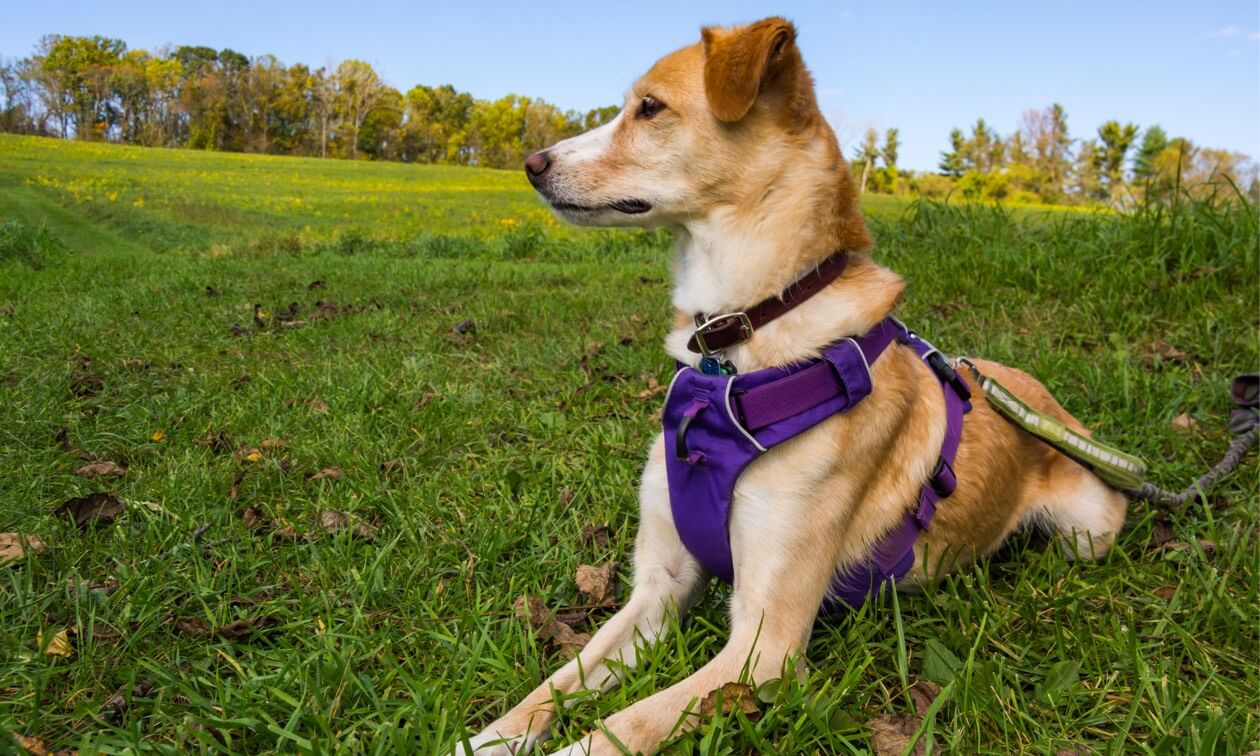 When it comes to choosing the right collar or harness for your dog, there are a few important factors to consider. First and foremost, you should think about size: is the collar or harness too big? Too small? Is it adjustable so that you can adjust it as your pup grows? Comfort is also key: does the material uncomfortably rub against their skin?
Finally, safety must be taken into account when selecting a collar or harness. How secure is the fastening system and how much protection does it offer from potential hazards like getting caught on objects while out on walks? Additionally, it's important to consider providing your pet with a water source while out on walks, and a pet water bottle is a great solution. Ultimately, by taking all of these considerations into account when selecting a collar or harness for your dog, you can ensure that they'll stay safe, comfortable, and hydrated both at home and out exploring!
Common Mistakes with Using Collars & Harnesses
Using collars and harnesses to control and protect your pup is a great idea, but some common mistakes must be avoided. First, you should always ensure the collar or harness fits properly. Too tight of a fit can cause discomfort or restrict movement, while too loose may allow your dog to slip out of it. Second, many owners choose items based on fashion rather than function – opting for a stylish look without considering if it meets their safety needs. Additionally, using a choke chain as the primary restraint device is not recommended due to potential injury risks associated with its use.
Lastly, another mistake often made is using one type of collar/harness exclusively; rotating different types that provide comfort and security can help minimize any adverse effects from overuse or misuse. In conclusion, when selecting collars and harnesses for your pup's health and safety in 2023 make sure you take into account fitment, functionality over fashionability, no choke chains used as primary restraints devices, and alternate between different types often for best results!
Tips to Ensure Maximum Comfort and Safety when Using a Collar or Harness
When it comes to choosing the best collar or harness for your dog's health and safety, there are many factors to consider. It is important to ensure that your pet is both comfortable and secure while wearing the item. Here are a few tips to keep in mind when selecting a collar or harness:
Choose an appropriate size – The proper fit of any type of restraint on your pet is essential for maximum comfort and security. Make sure you measure your dog's neck and chest appropriately before purchasing either a collar or a harness.
Look for features like padding – Comfort should be a top priority when making this decision, so look for collars or harnesses with soft, adjustable straps as well as breathable materials such as mesh fabric, which will help prevent skin irritation from prolonged wear time. Additionally, some types of restraints come with additional features like built-in padding around pressure points that can provide extra cushioning when worn by dogs who pull during walks.
Consider visibility options – For nighttime activities such as walking outside after dark, it may be wise to select an accessory with reflective material woven into its design to make sure you can easily spot your pet if they wander away from you at nightfall! Similarly, those living close to major roads might want to opt for bright colors that stand out against traffic patterns to increase their pup's visibility even further!
Be aware of hardware – If opting for leather collars then check the buckle hardware carefully; always choose buckles made from metal rather than plastic as these tend not only last longer but offer greater strength too! In terms of clip closures on nylon/fabric varieties then try looking out for heavy-duty clips designed specifically with smaller animals in mind; these have been created especially strong so they don't snap under tension even if pulled hard by an excitable pup!