Snowmobiles are a popular form of transportation for many people in the winter. They come in different types, with each type having certain advantages and disadvantages. In this article, we will discuss what makes up a snowmobile, how they work, and what features to look out for when purchasing one.
There are many types of snowmobiles that vary in size, weight, and power. They can be divided into two groups: Recreational and Commercial.
As an Amazon Associate, I get money when you make a purchase. If you buy anything after clicking on one of the links in this article, I'll receive a commission.
You're watching a movie in the dead of winter, and when you see a policeman pursuing a fugitive on a snowmobile, you may not realize that these machines exist in a range of shapes and sizes.
Snowmobiles differ from one another in terms of color, size, features, and functions. The different kinds of snowmobiles are described in this page. Find out which one is ideal for your trip.
Snowmobiles of Various Types
When riding on trails, you use a mountain bike rather than a road bike, just as you would when riding on the road. Different types of snowmobiles assist you in achieving certain goals.
Touring on snowmobiles
Travel alone if you want to go quickly, and go together if you want to go farther!
A touring snowmobile is designed just for you if you like to go with a companion and enjoy companionship when touring and traveling long distances.
These come with a second seat in the back, as well as a slew of other amenities! They come with a variety of features depending on how much money you're willing to pay, such as heated seats, side-mounted mirrors, reverse gear, GPS and communication systems, and so on.
Their weight, length, and comfort are among the most obvious and distinguishing characteristics that set them distinct. Almost all touring snowmobiles are heavier and have a greater length when compared to the other types. This makes them an ideal companion for long trips and distances.
Performance snowmobiles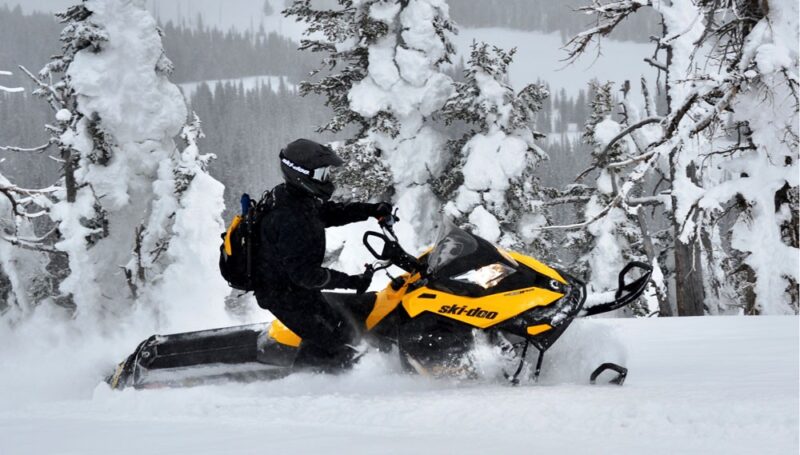 These snowmobiles are designed specifically for experienced riders and people who love the adrenaline rush of speeding. Professional riders often utilize these, which are outfitted with strong motors that distribute raw performance.
A performance snowmobile has reached a top speed of 277.13 kilometers per hour. And the majority of them have at least 150 horsepower. They're ideal for tighter turns because of their lightweight frame and construction.
Another characteristic of them is the high-duty suspension, which is designed for heavy usage.
Utility/day-to-day chores using snowmobiles
These are the greatest suited for day-to-day activity since they have a longer frame and a hitch for towing a sled. Their suspension is long-lasting and designed to handle heavy-duty tasks.
These are sometimes used for racing, although they are primarily used to transport goods. You cannot go wrong with a utility snowmobile if you intend to spend a significant amount of time traveling on your machine with goods connected to it.
Trails for snowmobiles
Have you ever ridden a snowmobile? Or have you only tried it a few times? Or do you think you're inexperienced?
If you answered "yes" to any of these questions, you should begin by purchasing a snowmobile for trail use. With a tiny cooled-fan engine and a thin frame, they are ideal for novices.
These are lightweight and simple to operate, but they are not designed to pull large amounts of goods like utility snowmobiles. Nonetheless, we believe this is the greatest option for inexperienced riders.
Mountaineering snowmobiles
It's a difficult job to live in and near a mountain range and have to ascend the slopes on a regular snowmobile. That was recognized by the designer of this kind of snowmobile!
If you plan on going up and down a mountain often, this is the snowmobile for you. Its engine produces a lot of power, allowing the vehicle to effortlessly climb mountains.
More expanded lugs on their tracks enhance grip on slopes, and the slim body is ideal for tight bends. These, on the other hand, should not be your first choice for flat-surface riding or racing.
Youth's snowmobile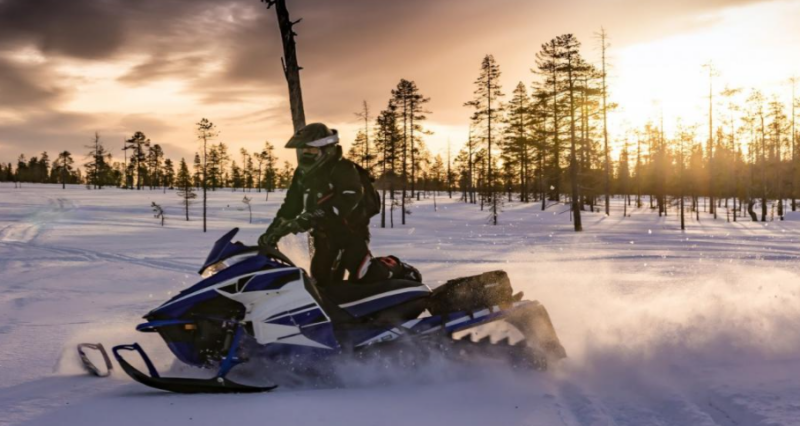 Everyone has had a difficult year in 2023. However, if you want to take your kid out for a fun ride, you might consider buying them a snowmobile that is specifically made for them.
These are ideally suitable for youngsters and adolescents above the age of eight. It has a shorter frame, which gives your kid greater comfort and control over the machine, allowing them to use it effectively.
Other safety measures on this kind of snowmobile include speed control, a single-cylinder engine, and restricted horsepower.
Crossover/hybrid snowmobiles
These are the types of snowmobiles that may be used on and off trails. They have enough power to get them off the path. Simultaneously, they have a hybrid track with a medium-sized lug. It's a little longer than the ones seen on most touring and utility snowmobiles. This results in a crossover model with excellent traction and energy for use on the trail.
Once you've mastered the use of this kind of snowmobile, you may go on tours, but this should not be your first option. Having said that, we think a hybrid snowmobile may give you the best of both worlds in a win-win scenario.
Last but not least
It all comes down to these few factors. For starters, if you have never ridden a snowmobile before and are searching for one that will meet your recreational needs, choose a hybrid or utility type.
If long-distance riding and climbing mountains interest you, consider touring or mountain snowmobiles. It should be simply a utility vehicle for hauling goods.
If you've already ridden before and want to step it up a level, a performance model is the way to go. Good luck with your purchase, and do keep us updated on how it goes.
The mountain snowmobile is a type of snowmobile that is designed for use in mountains, and typically has a large engine.
Frequently Asked Questions
What are the different types of snowmobiles?
There are three types of snowmobiles. The first is a tracked vehicle with tracks on the bottom, which can be driven on ice or snow. The second type is an all-terrain vehicle that has no tracks but instead uses skis or runners to move across the surface of the snow or ice. The third type is a sled that does not use any sort of traction device and instead relies on its weight for movement.
How do I choose a snowmobile?
There are many factors to consider when choosing a snowmobile. These include the size of the rider, the amount of weight they can carry, and their intended use in the winter.
How many brands of snowmobiles are there?
There are many brands of snowmobiles. The most popular ones are Arctic Cat, Polaris, Yamaha, and Kawasaki.