As we look to the future, it's clear that environmental control solutions will need to be more efficient and effective than ever before. The next generation of environmental control solutions is set to revolutionize the way we protect our planet from climate change.
Through innovative new technologies, these systems are designed to reduce resource consumption and emissions while still providing reliable protection against extreme weather events. These cutting-edge solutions offer a range of advantages such as improved energy efficiency, increased automation capabilities, and better monitoring capabilities.
With their advanced features, they are poised to become an integral part of society in the years ahead. As this technology continues to develop, it has the potential to create a cleaner world for generations to come.
Utilizing Renewable Energy Sources
Renewable energy sources such as solar, wind, and hydroelectricity are quickly becoming the preferred way to power homes and businesses to reduce our dependence on fossil fuels. As we move into the future, utilizing renewable energy sources will become increasingly important for environmental control solutions. By using these clean sources of energy, not only can we minimize our carbon footprint but also save money in the long run by avoiding rising costs associated with traditional forms of energy production.
Furthermore, renewable energies have many advantages over fossil fuels such as being less polluting and having a more sustainable source of power supply than non-renewables. Therefore, investing in innovative technologies that use renewable energy sources is essential for achieving a greener future.
For instance, electric vehicles powered by solar cells offer an environmentally friendly alternative to gas-powered cars while home automation systems enabled by smart grids allow us to take advantage of real-time monitoring and control when it comes to electricity consumption. In this way, individuals can make informed decisions about how they use their resources while businesses can benefit from reduced overhead costs associated with traditional utilities like natural gas or oil heaters.
Ultimately there is no denying that making use of renewable energies now will help guarantee a prosperous future for generations to come.
Innovative Solutions to Reduce Carbon Footprint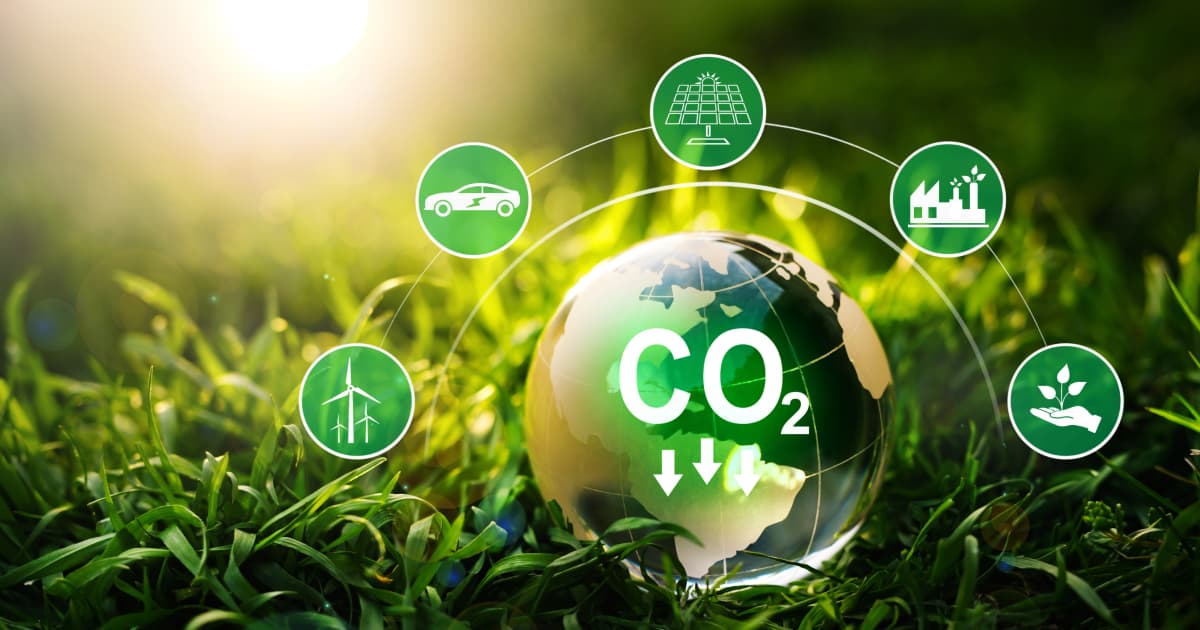 As the world continues to progress, so does the need for innovative solutions to reduce our carbon footprint. The next generation of environmental control solutions promises to revolutionize how we not only reduce emissions but also create more efficient methods for doing so.
For instance, new technologies such as renewable energy sources like solar and wind power offer a clean alternative to traditional forms of energy production. Furthermore, green building materials are being developed that can help improve insulation in homes and commercial buildings while still offering durability and affordability.
In addition, advances in artificial intelligence (AI) have enabled us to leverage data-driven insights into climate change and resource use – allowing us to better understand its impact on our environment. Finally, companies are developing smart distribution networks that allow them to optimize their supply chains with eco-friendly shipping options that further limit their contribution towards global warming.
All these efforts demonstrate the commitment society has towards creating a sustainable future through innovative solutions designed with reducing our carbon footprint in mind.
Eco-Friendly Infrastructure Development Strategies
The development of eco-friendly infrastructure is essential for creating a more sustainable future. To achieve this, there must be an emphasis on investing in green technologies that reduce the environmental impact of our cities and towns.
Companies are beginning to recognize the need for change and are developing innovative strategies to make their operations greener. One such strategy includes utilizing renewable energy sources like solar, wind, and geothermal power as alternatives to traditional fossil fuels. This not only reduces greenhouse gas emissions but can also save companies money by lowering their energy costs.
Additionally, businesses can invest in new construction techniques meant to minimize waste production while still providing strong structural integrity for buildings and other structures. Finally, smart city initiatives such as intelligent traffic management systems help reduce urban pollution levels by using real-time data analysis to optimize vehicle flow through busy streets or intersections.
By taking these steps towards a greener infrastructure system we will ensure that our environment remains safe for generations to come.
AI-Based Automation for Improved Environmental Monitoring
The future of environmental control solutions is being revolutionized by AI-based automation. Automation has the potential to bring about significant improvements in monitoring and managing environmental conditions, providing more accurate and up-to-date data than ever before.
By leveraging advances in artificial intelligence technology, organizations can now gain a better understanding of their environment's current state and take proactive steps toward protecting it against destruction or pollution. Automated systems can quickly detect anomalies in air quality or water levels that would otherwise go unnoticed for days or weeks, allowing for faster responses to unexpected changes in the environment.
Furthermore, automated solutions enable organizations to continuously monitor their surroundings from remote locations with far greater accuracy than manual methods allow. This helps ensure that any potentially damaging activities are identified before they reach catastrophic levels, enabling them to be corrected swiftly and effectively while reducing the amount of resources needed for observation and maintenance.
With AI-based automation driving the next generation of environmental control solutions, we can look forward to more efficient processes as well as improved safety outcomes when it comes to preserving our planet's health and well-being in the future.
Conclusion
The next generation of Environmental Control Solutions is paving the way for a more sustainable and efficient future. With increasing technological advancements, these solutions are becoming increasingly accessible to businesses and individuals alike.
As energy efficiency continues to be a priority in the 21st century, it's clear that Environmental Control Solutions have an important role to play in helping us achieve our sustainability goals. With this technology, we can help reduce our carbon footprint while still achieving higher levels of productivity than ever before.